Viña Errázuriz celebrates 150 years with extraordinary vertical tasting of Don Maximiano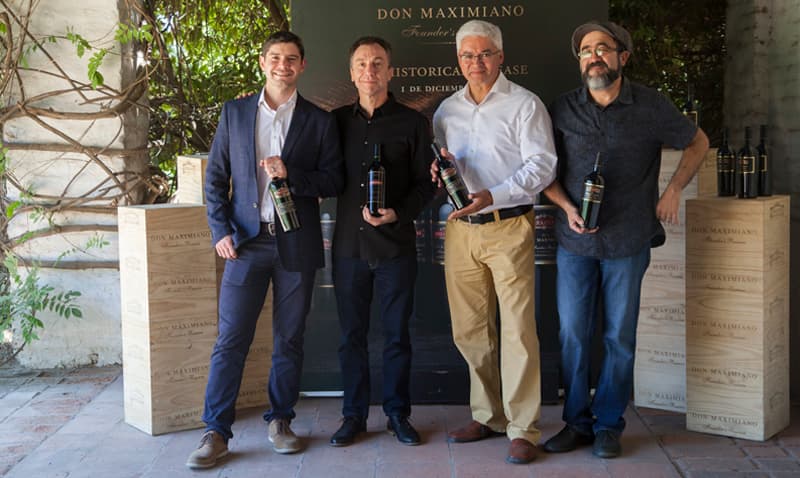 In their historic wine cellars and vineyards located in the Aconcagua Valley, Viña Errázuriz commemorated 150 years with a spectacular celebration and with Don Maximiano Founder's Reserve as the event's protagonist.
The nearly one hundred guests, among them numerous wine personalities including press, clients, chefs, restaurant owners, wine lovers and national artists, toured the unique and privileged environment where one of the oldest and most traditional wineries in Chile is located, starting at the Historic Cellar built by its founder Maximiano Errázuriz, dating from the origins of the winery back in 1870, as well as the captivating gardens and vineyards that surround it.
The tour culminated in the modern Don Maximiano Icon Winery, opened in 2010 and considered a benchmark for sustainability and avant-garde winemaking worldwide, chosen as the setting for the grand finale of the event.
To celebrate its 150th anniversary, Viña Errázuriz surprised by opening its library of historical vintages, in particular of its flagship wine, Don Maximiano Founder's Reserve, revealing an unprecedented collection of wines that uniquely narrate the history of the winery as well as Chilean viticulture. The vertical tasting was guided by Technical Director Francisco Baettig accompanied by Chief Winemaker Tomás Muñoz, tasting historical vintages that were preserved in perfect conditions, each one reflecting the style and technological resources of each decade: 1990, 2008, 2011 and 2018.
Tomás Muñoz added: "Don Maximiano's history is closely intertwined with the context of our country, and its vintages reflect the learning path it has gone through in viticultural, oenological and technological practices. Through our historic vintages we can travel back in time and place ourselves in different decades, which is why we say that Don Maximiano is our history written in wine."
The great vertical tasting was followed by a five-course pairing menu prepared by the outstanding Chilean Sommelier Ricardo Grellet and chef Germán Ghelfi from the Mandarin Oriental Hotel, including the 1988, 2015 and 2018 vintages of Don Maximiano.
Watch the video summary of the event here: Evento Cosechas Historicas Don Maximiano Founder's Reserve
Just a couple of months ago, Viña Errázuriz reopened its doors to tourism with a renewed and attractive set of experiences and tastings, including the previously mentioned wine cellars.
For further information and reservations, visit: Tourism @errazurizwines