Meet Cees Van Casteren, a master of wine who joined Errázuriz's team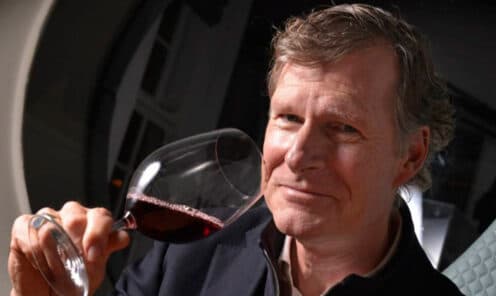 This is news that we are proud to share worldwide: a Master of Wine has joined Viña Errázuriz's team. Cees van Casteren MW, from Holland, joined the winery's sales team early this year. In the following interview, the Master of Wine from Holland -who was the second person in his country to obtain this prestigious title- shares details of his extensive and particular experience in the wine world, how and when he became a Master of Wine, and stories that have marked the long-standing relationship with Errázuriz. But, what does it mean to become a Master of Wine? In Cees' words, "one of the highest qualification standards of professional knowledge in the wine industry."
Where did you develop your career before entering the wine industry, and what has been your experience in the wine community?
After my studies of Economy at Tilburg University, I joined a mid-size Dutch chemical firm (DSM) in 1988 and lived in the USA (New York and New Jersey) from 1992 until 1996 as President of DSM. At that time and I travelled all states, Canada and Mexico in those years. In 1996, DSM acquired a company called Gist Brocades and the word 'Gist" means 'yeast'. This company was big in yeast for bread but also for enology. In 1998, I became President of the Enological division of DSM and lived in France for four years, in Montpellier. In 2002 DSM decided to divest my beautiful enological products business and at that time I decided to quit DSM and develop my own future in the wine business. In the meantime, I had qualified for the Master of Wine program and met Eduardo Chadwick. Since 2002, I have been self-employed, doing three things 'to pay the mortgage' as we say: consulting, writing (12 books and more than 600 articles in newspapers, magazines and books) and training/coaching including WSET courses, level 3 and 4.
When did you get your Master Wine qualification?
When I was in New York in 1992 I met Michael Aaron, President of Sherry Lehmann, at the time the main supplier of fine wine to the city. He persuaded me to apply for the MW program. However, I had no experience nor proper wine education -just passion!- and the Institute of Masters of Wine declined my application in 1992 saying with 5 to 10 years of experience in the wine trade, I would benefit more from their program. But now I was infected with the wine virus, and when I was back in Holland in late 1996, I did all the wine education I could do at that time and two years later I became President of DSM Enology. I reapplied at the Institute and was accepted. I couldn't sit the exam for a few years because in France where I lived it was impossible to find wines from any other country than France (now it is better) but I passed the exam in 2009 and finished my dissertation in 2012. In my MW-student period I met many of my current contacts in the wine world including Robert Mondavi, Baronesse de Rothschild, Anthony Barton, Michel Chapoutier, Josef Drouhin, Ernst Loosen, Trimbach, Angelo Gaja, Pierro Antinori, the Frescobaldi's, Claude Taittinger, Miguel Torres, Peter Gago, just to name a few, all leading journalists in the world.
How did your life change since you became a Master of Wine?
Once you have the two coveted letters MW behind your name, doors of any winery and university or institute open. It is kind of a 'priority pass' for the wine world. It gives credibility even if people do not know you. I got asked for presentations and consulting jobs which I never would have received without being a MW. I travelled the world 3 to 4 flights a week for 35 years and have been at almost all winemaking regions in the world. I still have to go to Madeira, Tasmania and the Azores but almost all other wine regions are covered. In the meantime, I can put everything regarding wine in context. My latest book "Anyone Can Taste Wine" will be available in English and hopefully in Spanish soon too. For anyone who would like to improve their tasting skills, I can recommend it.
In the early 2000s I met Eduardo Chadwick in the MW program, and later helped him with a situation with Caliterra in Holland and ever since we have stayed in touch. I was present when the first vines were planted in Aconcagua Costa and attended many events including the opening of the Icon Winery. I remember I sat next to Frescobaldi in the bus who told me great stories about the former Queen Juliana who had a summer house in Tuscany close to his and developed a friendly relationship. He even got invitations to the royal palace in Holland!. More recently, I sometimes contacted the team in Santiago to alert them of potential opportunities in Holland. From one of these contacts, Carlos López, Sales Director, subsequently seduced me to work for the Chadwick Group. The initial catch and 'promise' was I would do masterclasses and tastings to stimulate sales in countries like Denmark, Holland, Belgium and Germany. However, in the meantime I have become part and parcel of hardcore sales, with my feet deep into the mud. As my first 16 years after graduation have been in sales and marketing roles as well, I have to say I am enjoying this time, especially working together with Errázuriz team. Commercially, I now got full circle.
I wrote a book about the wines of Chile in 2008 and have been to Chile over 50 times almost visiting all wineries in all regions. My next trip to Chile is long due…